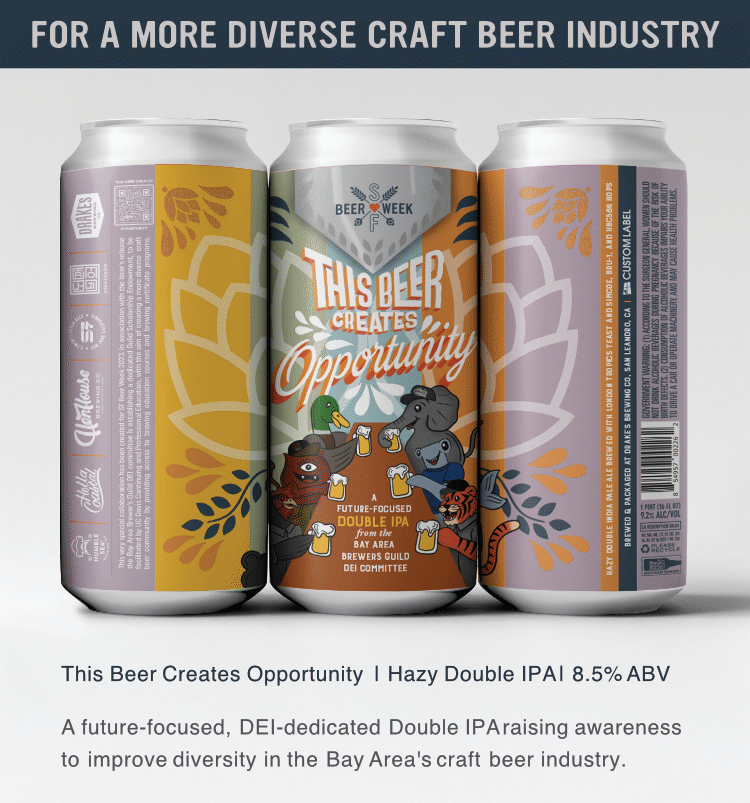 The Official 2023 SF Beer Week Collab was created to both champion and fundraise for a more diverse craft beer industry.
The beer: This Beer Creates Opportunity, a super juicy Hazy Double IPA (8.5% ABV), features notes of passion fruit, guava, mango, lychee, citrus and fresh cut pineapple. London Tropics yeast; Simcoe, Bru-1 and HBC 586 hops; and an array of grains, including oat, wheat and California-grown heirloom malt, ensure any 'super juicy' boasting is deserved.
The team: Brewed by members of the Bay Area Brewers Guild's Diversity, Equity & Inclusion Committee: Drake's Brewing Co. (host), Hella Coastal Brewing Co., HenHouse Brewing Co., Humble Sea Brewing Co., Dokkaebier and S27 Alehouse & Brewery, with special thanks to fellow collaborators Berkeley Yeast, Admiral Maltings, BSG Craft Brewing, Custom Label, Barretto-Co and label designer Blanca (@blanca.creative).
The cause: Proceeds from the beer's release, combined with financial commitments from the Bay Area Brewers Guild, contributions from trade partners, and donations from fellow guild members and the greater craft community, will establish a Guild Scholarship Endowment facilitated by University of California Davis Continuing and Professional Education for the purpose of providing access to brewing education courses and brewing certificate programs.
The opportunity: Help us make a difference. Buy this beer! Seek out this special release at your favorite bottle shop, on draft at bars and restaurant, available in both formats at Drake's Barrel House and Drake's Dealership, and at local markets. And click the endowment donation button below to donate directly and help us make a difference for someone passionate about craft beer.
The Inclusion Beer Project is a collaborative Diversity, Equity & Inclusion initiative to bring about change in the brewing industry by creating a new and much needed culture of inclusion. Often, it starts with a commitment to form a DE&I committee. Once breweries, guilds and associations around the world adopt a structure for having the hard conversations, they can next turn those discussions into meaningful change.